Pheasant's Roost is a shepherds hut with high levels of comfort and a private wood-fired hot tub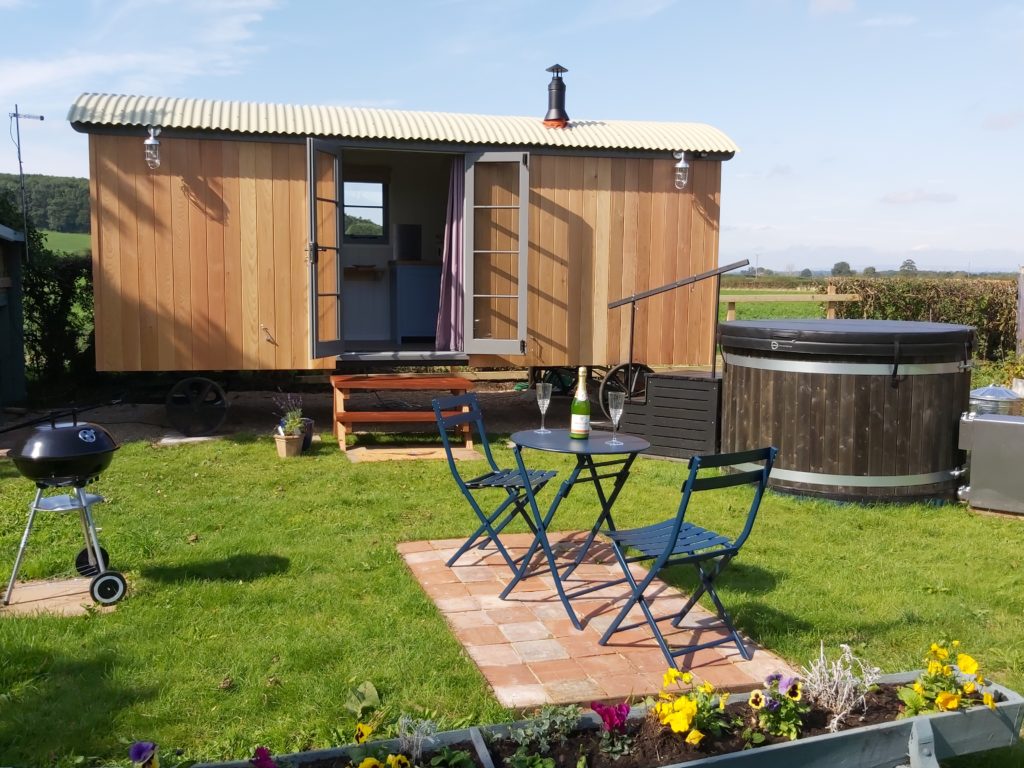 We also have an en-suite shepherds hut on site which offers high levels of comfort and equipment. Our guests often comment that it is surprisingly spacious. There's also a private wood-fired hot tub for your use. The shepherd's hut sits in a small paddock with amazing views over farmland. It offers a hob, microwave, a small butler sink, and fridge so you can prepare meals, or dine out if you prefer. There's also a little log burner that quickly takes the chill off. The minimum stay is 2 nights.
We supply all bedding and towels, as well as coffee, tea and biscuits for your arrival. We are also dog-friendly. You are welcome to bring 2 dogs free of charge, but please note that the paddock is not secure.
Our guests tell us that the wood-fired hot tub is one of the best things about their stay, especially our pre-heating service. If you'd like to arrive on your first night and have the hot tub perfectly heated, with a bottle of Prosecco on ice. Just add the "Drop and Dip" when you book.
Reviews
Have a look at our Facebook page or Google reviews for our visitor's opinions on our cosy shepherd's hut. Here's one from a recent Airbnb guest,
"Pauline was a great host which great communication throughout, she met us upon arrival and showed us around the hut. The space is perfect for a few nights away, it is clean, spacious and has everything you need for a getaway. The location is just perfect such that it is secluded off a country lane but within 5 minutes walk from a village with shops and pubs. Pauline also went the extra mile and provided my partner with a gift for her birthday. We would definitely recommend and we will be back again for sure – thanks again Pauline!"
If you'd like to book a short break in our cosy shepherd's hut, then check out our online availability and booking service.